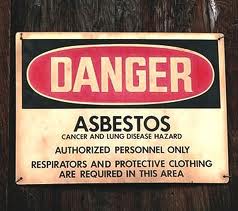 A 65-year-old Beaverton man who is dying of asbestos-related cancer – four decades after he was exposed to the material – was awarded $8.75 million by an Oregon jury.
The three and half week long trial showed that Kaiser Gypsum, the manufacturer of a spackle-like product used on wallboard, exposed David Hoff to asbestos in the 1970s even though the company was aware of the hazard as early as 1965, according to evidence presented at the trial.
Hoff was a carpenter and was in his 20s when he worked construction sites where the Kaiser Gypsum product was applied by drywall workers, then sanded, releasing the tiny cancerous fibers into the air he breathed, according to the lawsuit.
It typically takes 20 to 50 years for someone exposed to asbestos to develop the type of cancer Hoff contracted: mesothelioma, which affects the lining of the lungs. Kaiser Gypsum said it stopped making the spackle-like compound referenced in the suit in 1975, on its own volition.
Around that time, the U.S. Environmental Protection Agency had begun issuing warnings and passing regulations banning asbestos in some products, including spray-on insulation and pipe insulation.
Roughly 2,000 to 3,000 people are diagnosed with mesothelioma per year in the U.S. – and by far, most people who sue are at least in their 60s.
Hoff has been told he can expect to live another one to 1½ years. Judge Judith Matarazzo informed jurors that if Hoff hadn't contracted mesothelioma, he could have expected to live another 17 years. He is the father to three daughters, and has several grandchildren. He also is a volunteer in his church.
Hoff's original suit listed two other companies as defendants: Union Carbide, which was the supplier of the asbestos used in the spackle-like product, and Georgia Pacific, which had a similar spackle-like product. Both companies reached a confidential settlement with Hoff during trial.
The jury awarded Hoff $750,000 for medical expenses and $4 million for pain and suffering. It also awarded $4 million to his wife, Patricia Hoff, for the suffering she has endured and will endure after the loss of her husband.
If you or a loved one was diagnosed with mesothelioma after asbestos exposure, contact our office immediately. Dr. Shezad Malik's law firm handles asbestos lawsuits from across the country.