Can You Die From Januvia Pancreatic Cancer? The short answer is; it depends. Some 25 to 30 million people in the United States have diabetes, and 80 million folks have medical condition known as pre diabetes.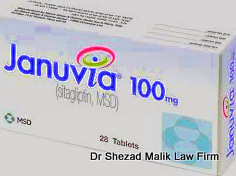 And the numbers are increasing slowly but surely. And Type 2 or adult onset diabetes is generally considered a man made problem (excluding Type 1 diabetes which occurs in childhood and usually as a result of genetic factors, autoimmune disease and or environmental problems).
Januvia is a drug manufactured by Merck, and it is used to treat adults with type-2 diabetes. In September 25, 2009 the FDA issued a revision to the warning label of the drug Januvia or Janumet, a combination drug comprised of Januvia and Metformin, regarding Januvia side effects, including Januvia pancreatic cancer and Januvia thyroid cancer.
Januvia (sitagliptin) and Janumet (sitagliptin/metformin) are the first in a new class of oral diabetes medications, called dipeptidyl peptidase-4 (DPP-4) inhibitors that improve blood sugar control in patients with type 2 diabetes. Both medications have recently been linked to acute pancreatitis and pancreatic cancer.
Reports of pancreatitis associated with type 2 diabetes medications, including Merck's Januvia and Bristol-Myers Squibb's Byetta and Bydureon, have forced the Food and Drug Administration (FDA) to begin a safety review.
The FDA said they are "evaluating unpublished new findings by a group of academic researchers that suggest an increased risk of pancreatitis, or inflammation of the pancreas, and pre-cancerous cellular changes called pancreatic duct metaplasia in patients with type 2 diabetes treated with a class of drugs called incretin mimetics." These cellular changes can lead to pancreatic cancer.
Scope of the Problem: 2011 National Diabetes Fact Sheet
Total prevalence of diabetes
Total: 25.8 million children and adults in the United States—8.3% of the population—have diabetes.
Diagnosed: 18.8 million people
Undiagnosed: 7.0 million people
Prediabetes: 79 million people
New Cases: 1.9 million new cases of diabetes are diagnosed in people aged 20 years and older in 2010.
Cost of Diabetes: Huge
$245 billion: Total costs of diagnosed diabetes in the United States in 2012
$176 billion for direct medical costs
$69 billion in reduced productivity
After adjusting for population age and sex differences, average medical expenditures among people with diagnosed diabetes were 2.3 times higher than what expenditures would be in the absence of diabetes.
Factoring in the additional costs of undiagnosed diabetes, prediabetes, and gestational diabetes brings the total cost of diabetes in the United States in 2007 to $218 billion.
$18 billion for people with undiagnosed diabetes
$25 billion for American adults with prediabetes
$623 million for gestational diabetes
If the FDA investigation and further medical studies do show a link between Januvia and Pancreatic Cancer, then you have your answer. The best way to treat diabetes is to avoid it in the first place with a sensible low carbohydrate diet, exercise and weight reduction. We eat way too much in the US, we have a sedentery lifestyle and we are all being poisoned by the food industry by foodstuffs with too much salt, sugar and fat. Mayor Bloomberg was right, ban sugary drinks and lable fast foods fat, sugar and salt content.