According to the FDA, patients who have artificial heart valves should not use Pradaxa. The FDA issued this latest Pradaxa warning, after data from a clinical trial showed that the blood thinner may increase the risk of strokes, heart attacks, blood clots and other catastrophic bleeding problems.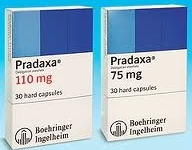 Pradaxa is not approved for patients with atrial fibrillation caused by heart valve problems. FDA is requiring a contraindication (a warning against use) of Pradaxa in patients with mechanical heart valves.
The medical study was a clinical trial known as RE-ALIGN, and it was recently cancelled in Europe to protect patient safety. The medical researchers showed that using Pradaxa with mechanical heart valves increased the risk of heart problems and had a poorer outcome than using Coumadin or warfarin.
What is Pradaxa?
Pradaxa is a blood-thinning medication used to reduce the risk of stroke and blood clots in patients with a specific condition called non-valvular atrial fibrillation (AF), a common heart rhythm abnormality that causes the upper chambers of the heart, or atria, to beat rapidly and irregularly. Pradaxa is not indicated for patients with atrial fibrillation caused by heart valve problems.
Study: Pradaxa use leads to Twice the Risk
Pradaxa patients in the clinical trial had twice the risk of death, stroke or some other thromboembolic event overall. Major bleeding events affected 3.8% of Pradaxa patients, compared to 1.1% of those taking Coumadin.
Pradaxa Serious and Deadly Side Effects
Boehringer Ingelheim, the German manufacturer of Pradaxa faces more than 120 Pradaxa lawsuits. The lawsuits allege that Boehringer Ingelheim failed to adequately warn doctors and patients about the risk of uncontrollable bleeding, because there is no reversal agent.
Pradaxa (dabigitran) is an anticoagulant that was introduced by Boehringer Ingelheim in October 2010 for prevention of strokes in patients with non valvular atrial fibrillation.
According to some experts, because of the inability to stop bleeding that may develop, Pradaxa recall should be issued, since the risks may outweigh the benefits provided over warfarin.
Healthcare professionals and patients are encouraged to report adverse events or side effects related to the use of Pradaxa to the FDA's MedWatch Safety Information and Adverse Event Reporting Program:Complete and submit the report Online: www.fda.gov/MedWatch/report.htm
Read more here and visit my website for further information.