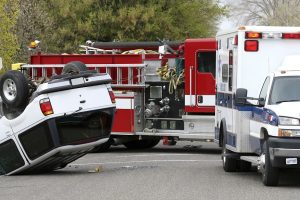 The largest recall in U.S. automotive history is on the way after federal safety regulators expanded a nationwide recall of Takata's air bags to 69 million vehicles made by more than 14 automakers.
The move by federal regulators comes after the 10th fatality linked to Takata's defective air bags was reported. Recently, a teenager named Huma Hanif was driving a Honda Civic when she ran into a car in front of her. The air bag ruptured upon deployment and sent a metal shard into her neck. She died at the scene, becoming the 10th fatality linked to faulty air bags developed by the company Takata Corp.
The incident highlights some of the dangers associated with air bags. Although they have saved many lives, air bags have also caused some deaths since automakers began widely using them. In the 1990s, for example, 200 people died in accidents in which an air bag deployed with fatal force.
But the safety of air bags was more recently questioned in 2009 after the first of ten fatal U.S. car accidents linked the deaths to faulty air bags manufactured by Takata. Despite these links, the company originally denied there was any links to its product. However, there are some people who believe the company knew about these flaws and decided to hide it from the public.
Takata "realized there was a problem, and they covered it up," Christopher Tang, a professor at UCLA's Anderson School of Management and a consumer-safety expert said. The National Highway Traffic Safety Administration (NHTSA) appears to agree with Mr. Tang. Last November, the safety administration accused the Takata of "delay and denial" in acknowledging the faulty air bags and slapped the company with a $70 million fine.
Family of members of loved ones who have died in an accident as a result of a faulty air bag or have been seriously injured are now pursuing lawsuits against the company. If a person is not sure whether their vehicle had the faulty air bags, the NHTSA has set up a website where they can find out.
Consumers can enter their vehicle identification number (VIN) to www.safecar.gov to find out if their vehicle had these faulty air bags. Even if your vehicle is not included in the website above, it is highly encourage that you contact an attorney immediately if you or a loved one were injured in an accident.
Air bag lawsuits against Takata or other air bag manufacturers may include seeking compensation for:
medical costs
lost wages
future medical costs
pain and suffering, and
other damages.
Dr. Shezad Malik's law firm is currently evaluating defective air bag lawsuits from across the country. If you or a loved was seriously injured by a faulty air bag, don't hesitate to contact us.