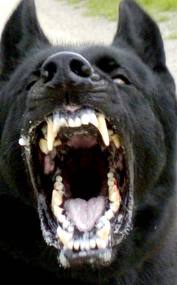 An increase number of dog bites across the country has led to increase number of lawsuits filed against dog owners. Some dog owners face specific penalties if their dog is considered a "dangerous" dog under local or state statute.
Dangerous or vicious dogs are sometimes identified by their breed. Dog breeds commonly considered by local and state lawmakers as dangerous or vicious breeds include pit bulls, rottweilers, wolf breed (husky), presa canarios, mastiff varieties, American bulldog, and doberman pinschers.
In other instances, such in Austin, Tx., a dog is labeled as "dangerous or vicious" not by its breed but instead by the individual dog's history. In Austin, a dog that has attacked an animal or person without the dog being provoked could be labeled as a "dangerous dog."
Owning a dog labeled as "dangerous" creates additional responsibilities for the dog owner. In Austin, for example, a "dangerous dog" owner must, on top of other requirements, purchase insurance coverage or show financial responsibility in an amount of at least $100,000 to cover damages resulting from an attack by the dangerous dog.
These additional requirements for dangerous dog owners are meant to protect the public in the event of a dog attack. People who have been attacked by a dangerous dog can file a lawsuit against the dog owner for many reasons, including:
medical costs
lost wages
future medical costs, and
pain and suffering.
Recently, a dog attack in Dallas sheds light as to why we should take dog bites more seriously. In this instance a lady was mauled by a pack of loose dogs. The lady was bitten more than 100 times during the attack. She died a week later in the hospital.
If you or a loved one was attacked by a dog, contact our office immediately. You may be entitled to compensation.