DALLAS — A Bedford infectious-disease specialist has been ordered to pay $7.5 million to a former maintenance man who lost his arms and legs to an MRSA infection.
Judge Jim Jordan ordered Dr. Meenakshi Prabhakar to pay David Fitzgerald after a Dallas County jury found in Fitzgerald's favor in his medical malpractice lawsuit. Prabhakar treated Fitzgerald in 2003 when he developed an infection following surgery at RHD Medical Center in Farmers Branch. Photo courtesy of Dallas Morning News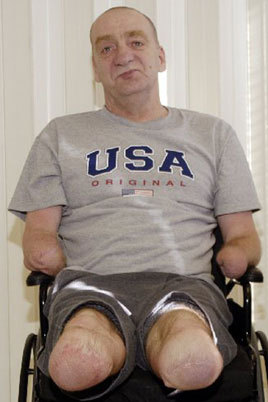 The jury ruled Fitzgerald should get $17.5 million, but because of caps on medical malpractice cases he cannot collect about $10 million the jury awarded for pain, mental anguish and physical impairment.
Linda Turley, Fitzgerald's attorney, called the caps a "tragic unfairness" to Fitzgerald, who "cannot bathe by himself, cannot get out of the house by himself and will need assistance for the rest of his life," The Dallas Morning News reported in its online edition Monday.
Fitzgerald, 53, now lives with his brother in East Texas.
William H. Chamblee, Prabhakar's attorney, said Fitzgerald was treated with eight antibiotics but not the one that treats MRSA, which is a type of hospital-acquired infection that can be deadly if not treated quickly.
Chamblee said Prabhakar probably will appeal the jury's decision.
If you or a family member has been injured because of the fault of someone else; by negligence, personal injury, slip and fall, car accident, medical malpractice, trucking accident, drunk driving, bad product, toxic injury etc then please contact the Fort Worth Texas Personal Injury Attorney Dr. Shezad Malik. For a no obligation, free case analysis, please call 817-255-4001 or Contact Me Online.