As Biomet M2a Magnum metal on metal hip replacement attorney, I have written extensively about the inherent early failure problems associated with metal on metal hips like the DePuy ASR, Pinnacle hip replacement models and others made by Biomet, Zimmer, Smith and Nephew and Wright.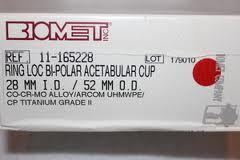 In recent years, concerns have emerged about the safety of all metal-on-metal hip replacement systems. The metal-on-metal design causes cobalt and chromium metallic microscopic shards to shear off from the metallic articular surfaces through the grinding wear and tear mechanism. The articular surfaces involve the metallic surfaces of the acetabular cup, femoral head and taper sleeve.
There is mounting evidence of the significant risks that the patients are exposed to; including premature device failure, osteolysis (bone loss), bone and tissue damage, metallosis (metal poisoning) and heavy metal toxicity.
According to lawsuit allegations, this excessive wear makes the Biomet M2a Magnum Hip system prone to fail.
Biomet M2a Magnum MDL Application
The plaintiffs who allegedly been injured by a Biomet M2a Magnum metal on metal hip, have filed a motion with the Judicial Panel on Multi-District Litigation to create a multi-district (MDL) for individual product liability lawsuits.
The initial filing includes 9 Biomet metal-on-metal claims filed in various federal courts throughout the U.S. and it is expected that many more cases may be filed once approved.
Biomet Metal-On-Metal Hip Problems
The Biomet M2a Magnum was approved by the FDA in 2004 and is made up of all-metal components. Biomet M2a Magnum was initially marketed as a longer-lasting and more durable hip implant suitable for younger, more active patients. But post-marketing reports indicated the implant was failing sooner than expected, with patients complaining of pain, swelling, difficulty walking, and other complications.
FDA Adverse Complaints
The FDA has received at least 450 complaints involving the M2a Magnum and these seem to be increasing with time, as evidenced by the 159 reports already received in 2012.
Reasons for MDL Consolidation
Like the other four metal-on-metal MDLs, involving DePuy ASR, DePuy Pinnacle, Zimmer Durom Cup, Wright Conserve, the M2a Magnum cases will benefit from consolidated proceedings.
Transfer and coordination is likely because these cases involve similar questions of fact, including whether or not the Magnum has caused or will cause harmful effects in patients, whether the defendants concealed any knowledge of the connection between the M2a and its harmful effects, and whether or not they defectively designed and/or manufactured the device. The MDL is designed to allow these cases to proceed jointly and will decrease costs for all parties, conserve valuable judicial resources and avoid the risk of inconsistent rulings.
Current Metal on Metal Hip MDL Consolidation
MDL No. 2158 – In Re Zimmer Durom Cup Hip Implant Litigation in New Jersey established in June of 2010 which now has more than 151 filed lawsuits.
MDL No. 2197 – In Re DePuy Orthopaedics, Inc. ASR Hip Implant Products Liability Litigation in Ohio established in December of 2010 which has more than 4,000 individual lawsuits.
MDL No. 2244 – In Re DePuy Orthopaedics, Inc. Pinnacle Hip Implant Products Liability Litigation established in Texas in May of 2011 which has more than 1,200 individual lawsuits.
MDL No. 2329 – In Re Wright Medical Technology, Inc., Conserve Hip Implant Products Liability Litigation established in Georgia in March of 2012 which has more than 30 lawsuits.
Read more here about the Biomet M2a Magnum hip and visit my website for more information.