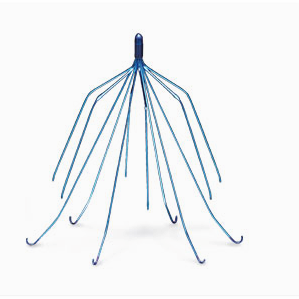 A device known as a vena cava filter (IVC) was implanted by doctors in hundreds of patients who are unable to take anticoagulants (blood thinners) in order to prevent blood clots from moving to the lungs. Three devices manufactured by C.R. Bard quickly came under criticism after reports surfaced of complications.
C. R. Bard IVC filters catch the clots in the blood stream and, over time, the clots dissipate. The IVC filter is retrievable and it is not designed to be permanent.
Soon after IVC filters were widely used, the U.S. Food & Drug Administration (FDA) received hundreds of adverse reports about the retrievable filters. Reported complications included punctured organs, blood vessels and filter migration to different parts of the body.
In 2010, the FDA warned the retrievable filters posed risks of filter fracture, device migration and organ perforation and should be removed as soon as the patient's risk for blood clots subsided. The FDA updated safety communication in 2014, stating most devices should be removed between the 29th and 54th day after implantation.
The FDA warning, however, came too late for some IVC filter users. As a result of damages suffered from C.R. Bard IVC filters, patients launched lawsuits against the manufacturer. C.R. Bard IVC filters facing lawsuits include:
The Bard Recovery filter
The Bard G2 Express filter
The Bard G2 filter
Various lawsuits launched against C.R. Bard claim negligence, breach of implied warranty, manufacturing defects, and design defects.
Kelley Vlasvich, who suffered severe complications after having a Bard G2 filter implanted in her for more than three years, recently filed a lawsuit against the company.
Vlasvich underwent open hear surgery to remove the IVC filter after it fractured and began traveling to other parts of the body, including one piece that traveled to her heart's right ventricle. Two other IVC filter pieces traveled to her lungs. The surgeons determined that it was too dangerous to remove the pieces from her lungs.
As a result of the defective C.R. Bard G2 filter, she suffers from "ongoing permanent pain." The pieces stuck in her lungs add to the discomfort.
Our law office continues to investigate potential IVC filter claims from across the country. If you or a loved suffered complications from an IVC filter, contact our office immediately.