As a Texas Zocor 80 mg Rhabdomyolysis Side Effects & Injury Attorney, I am providing this update regarding the recent FDA June 8, 2011 warning notice.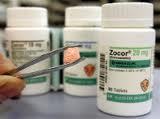 The FDA is calling for severe limits on the use of the cholesterol drug ZOCOR, generic simhttps://www.accessdata.fda.gov/scripts/medwatch/medwatch-online.htmvastatin at its highest dose, because of an increased risk of muscle injury, myopathy and rhabdomyolysis from Zocor side effects. The product liability lawyers at Dr Shezad Malik Law Firm are evaluating and accepting potential Zocor lawsuits for individuals who have been injured, since it appears that the manufacturer knew or should have known of these serious side effects and failed to issue warnings for the 80 milligram (mg) dosage.
On June 8, the FDA required that new warnings to be added to the label for cholesterol-lowering medications containing simvastatin, indicating that 80 milligram dose has been associated with an increased risk of myopathy. The medication is also used in combination with other drugs in the medications Vytorin and Simcor.
Zocor rhabdomyolysis side effects causes 5 out of every 100,000 people who regularly take Zocor 80 mg dose to be hospitalized. Rhabdomyolysis from Zocor is a rare but serious and potentially life-threatening injury, which causes muscle tissue to break down and can lead to kidney damage or kidney failure, requiring kidney transplant.
Symptoms and Signs of Zocor rhabdomyolysis include:
Muscle Cramps, Muscle Tenderness, Stiffness, Pain
Dark Urine, no Urine
Zocor is a cholesterol-lowering drugs known as statins. All statins carry some risk of rhabdomyolysis and myopathy, BUT the risk appears to be unacceptably high with 80 mg doses of simvastatin. That risk is increased even further when combined with certain other drugs and in people who are genetically predisposed to Zocor rhabdomyolysis.
The FDA released these new recommendations and warnings after reviewing clinical trial data and other information which has been available to the manufacturers for some time.
Fast Facts About ZOCOR Simvastatin
*Sold as a single-ingredient generic medication and under the brand-name Zocor. It is also sold in combination with ezetimibe as Vytorin, and niacin as Simcor.
*Used together with diet and exercise to reduce the amount of low-density lipoprotein (LDL) cholesterol ("bad cholesterol") in the blood to decrease the risk of heart attack, stroke, and cardiovascular death.
*The 80-mg dose lowers the LDL cholesterol by an additional 6% over simvastatin 40 mg.
*It is estimated that approximately 2.1 million patients in the U.S. were prescribed a product containing 80-mg simvastatin in year 2010.
ZOCOR LAWSUIT EVALUATIONS
Individuals who have suffered Zocor muscle problems or rhabdomyolysis after using 80 mg simvastatin may be entitled to compensation through a Zocor lawsuit as a result of the manufacturer's failure to fully research the side effects of simvastatin at high doses or adequately warn about the risk of Zocor problems.
If you as a patient have a severe injury from taking ZOCOR you can file a complaint with the FDA HERE:
Contact FDA
Report a Serious Problem
1-800-332-1088
1-800-FDA-0178 Fax
MedWatch Online
Regular Mail: Use postage-paid FDA Form 3500
Mail to: MedWatch 5600 Fishers Lane
Rockville, MD 20857

The Zocor lawyers at Dr Shezad Malik Law Firm are providing free consultations and claim evaluations to help individuals determine whether they may have a claim. To review a potential Zocor rhabdomyolysis lawsuit for yourself, a friend or family member, request a free consultation and claim evaluation.
Information and commentary provided by Dallas Fort Worth Personal Injury Attorney Dr Shezad Malik. The Dr Shezad Malik Law Firm can be contacted in Dallas toll free at 888-210-9693. If you or a loved one has been injured from ZOCOR, please fill out our contact card for a free consultation.