As a Fort Worth Taser Lawsuit Attorney, I am reporting this Dallas Texas story.
A Dallas police officer has filed a lawsuit in which he alleges that jolts of electricity received during Taser training caused fractured backs and other severe injuries.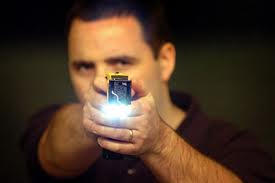 Dallas police Officer Andrew Butler's lawsuit, filed Jan. 6 against Taser International, is thought to be the first of its kind in Texas. He alleges Taser did not fully disclose the risks associated with being shot with the device in the academy to his police trainers.
In Dallas, the deaths of at least two drug-fueled suspects who were stunned during arrests have been connected to shocks from the devices.
Recently, police officers around the country have begun filing lawsuits claiming they were hurt when taking a Taser shot.
Several dozen lawsuits by police officers have been filed, but only one has gone to trial. Taser prevailed in that 2005 Arizona case because the officer had a pre-existing back condition.
The company has sold 514,000 devices to more than 15,800 law enforcement and military agencies. Half of the about 2.3 million times that Tasers have been used were in training environments and other voluntary situations, according to the company.
In Dallas, being stunned is optional, but peer pressure in the hyper macho environment of police training often leaves few bystanders, people familiar with the training say.
Dallas police Assistant Chief Floyd Simpson, who supervises training, said that he was unaware of cases in which officers around the country had alleged they were hurt by Tasers. He said he would review information in Butler's case, but had no immediate plans to stop officers from taking voluntary zaps in training.
He and others in the class signed waivers before they were shocked with the device. Butler and his attorney say he later had to have surgery to repair fractured vertebrae that were crushed when his back muscles contorted from the Taser shock.

Information and commentary provided by Dallas Fort Worth Personal Injury Attorney Dr Shezad Malik. The Dr Shezad Malik Law Firm can be contacted in Dallas toll free at 888-210-9693. If you or a loved one has been injured from a Taser Shock, please fill out our contact card for a free consultation.